Get a TCF 2.1 consent notice that works for you.
TCF 2.1 is the second version of the Transparency and Consent Framework (TCF), a consumer-facing framework that was built with cooperation from European Union associations, publishers, media owners, tech providers, and others, with the goal of increasing consumer transparency and choice while also facilitating management of the digital tools of consent and compliance and ensuring a standardization framework for associated parties.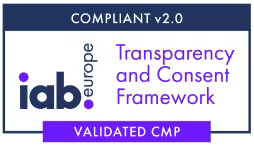 Get customizable consent management platforms tools from an industry leader
The main focus of the IAB TCF is encouraging the creation of compliant consent notices for parties who fall under the jurisdiction of the GDPR – the General Data Protection Regulation — and other privacy protection laws. CookieHub provides TCF-compliant consent banners engineered to instill trust in your website visitors, comply with GDPR and other regulations, and encourage consent opt-ins for website visitors so your organization can enjoy a steady stream of usable private information.
Content matters, and that is especially true when it comes to the language that appears on your consent user interface. CookieHub offers a range of customizable CMP solutions that comply with the IAB TCF guidelines and include complete user information that explains the data processing your organization wants to undertake.
Do you know what a compliant TCF consent form should include?
Understanding what a legal consent form should include may seem simple, but a strong focus on the details is needed so that you comply with government standards while also encouraging website visitors to opt into personal data collection. That is where CookieHub comes in – our CMP was built by pros who understand the TCF provisions as spelled out by IAB Europe, the European-level association for digital marketing and advertising. When you are ready for a consent management platform that includes TCF compliance for efficiently capturing, storing, and flagging user content, give us a call.
Smart solutions for TCF compliance
CookieHub's TCF solutions get you started on the right foot.
Total transparency: Give your customers a say and put them in charge of their personal data processing with options that grant or deny consent to collect personal data.
Flexible solutions: We work with customers and tech partners to offer a range of flexible tools that build relationships and unlock the flow of data.
Full third-party integrations: Our TCF solutions are engineered to work with a wide variety of third-party plugins to give you broad control over what data you collect and how you use it.
Ready to get started?
With TCF solutions from CookieHub, you can be up and running in days, not weeks.
Comply with GDPR using the IAB TCF & CookieHub.
CookieHub helps you protect your users privacy! Start your 30 day free trial today.
Our selection of plans accommodates websites of all sizes, offering options to suit your specific needs
Try CookieHub today for free.