Powerful, Affordable solutions for Compliance with Saudi Arabia's Personal Data Protection Law
Companies around the world are increasingly finding Saudi Arabia to be a lucrative market, and as your web presence in the kingdom grows, you need to be acutely aware of the country's new personal data protection act.
Saudi Arabia's Personal Data Protection Law applies to businesses that operate in the country and requires that they collect, use, share, store, update, or transfer data about Saudi Arabians only for the purpose of providing goods and services or for monitoring the behavior of website visitors.
Like most other data protection laws, the Saudi Arabia PDPL applies to businesses even if they do not have a physical presence in the country. The law is on the books but does not go into full enforcement until March 2023, meaning your organization and its website still have time to ensure it complies with this emerging privacy standard.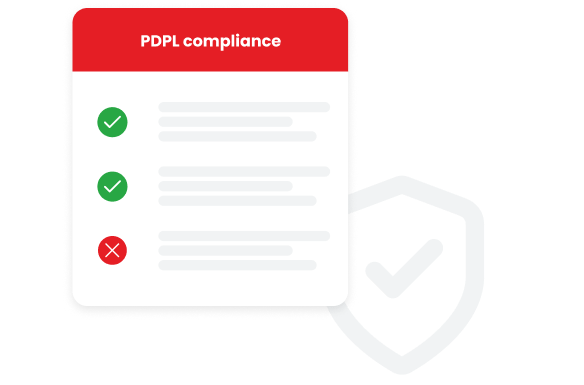 What Is Saudi Arabia's PDPL?
The Saudi Arabia Personal Data Protection Law is a new law that governs how businesses operating in the country collect, use, store, transfer, share, and update data about residents of the kingdom. The law is similar to, though not quite the same as, the GDPR. Note, also, that this law is different from the Bahrain Personal Data Protection law.
Confused About the PDPL? We Can Help
CookieHub brings years of consent management experience to customers seeking to comply with the PDPL. Our pros are standing by with a cookie consent management tool that can ensure compliance with PDPL and other global privacy laws.
Contact us now to learn more.
Comply with PDPL cookie privacy laws
CookieHub helps you protect your users privacy in Saudi Arabia by complying to strict cookie consent laws.
CookieHub is a subscription service that offers flexible pricing plans to suit the needs of websites of all sizes. Find the plan that works for you.
Try CookieHub today for free.